Our Story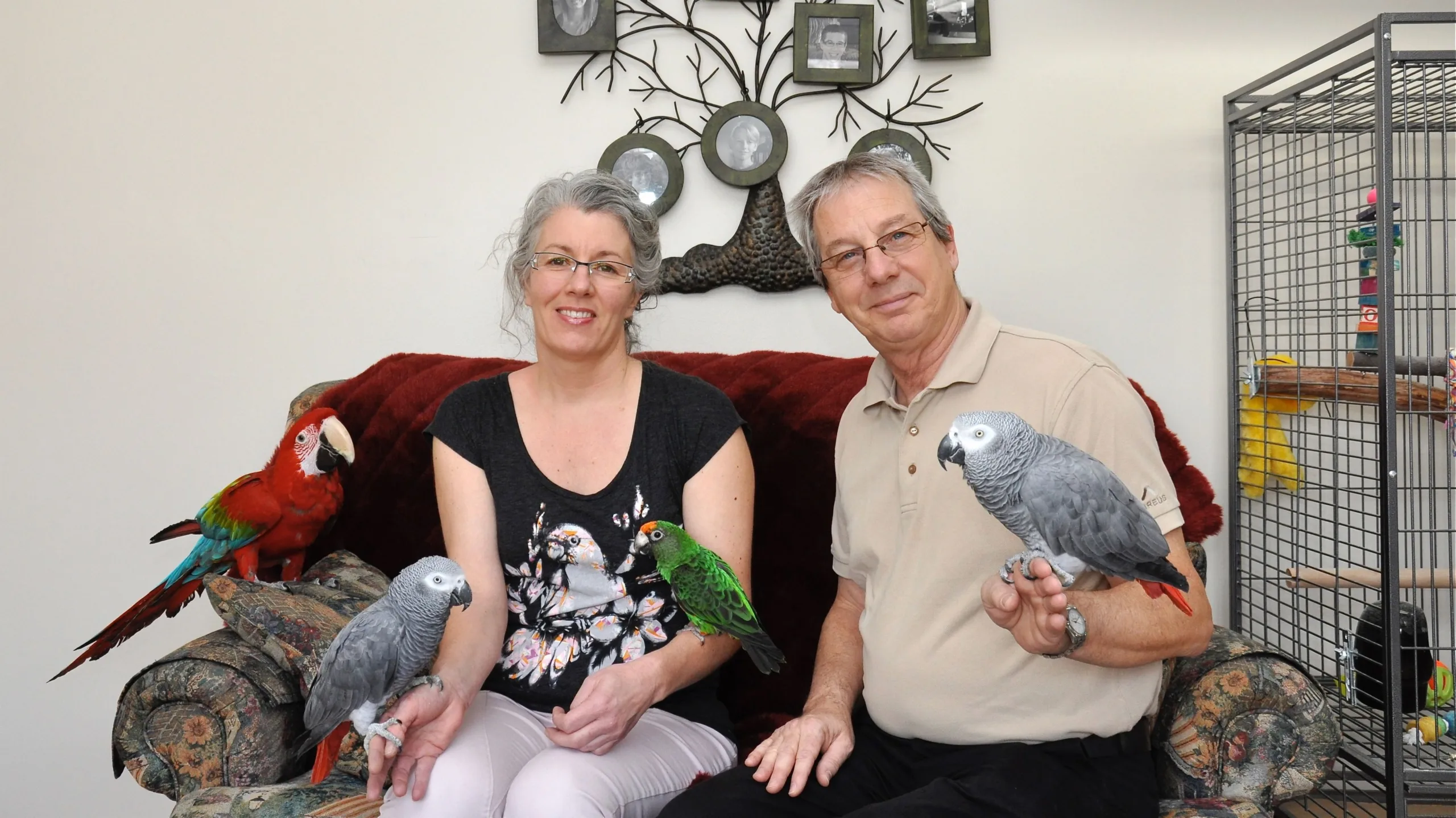 How one parrot quickly became a dozen…
Why we started breeding?
A friend, ex-breeder, advised us to share our experience, knowledge and passion for parrots with other people. Parents of seven children from the same union, masters of two Royal Poodles, full-time work as a mother at home, I saw my children make their way with success and pride. Wanting to have a hobby, I headed for parrots. These allowed me to continue to do what was most natural for me, which was to see to food, education and to take care of them with love.
The beginning of a passion
It all started with the purchase of a Brown Head. Shortly after, a Jardine came to keep him company. A few months later, a 9 year old African Gray was adopted. Then, two months later, a baby African Gray joins the family. We officially had the parrot fever. The passion was such that we were, and still are, looking for more information to better understand our friends. Through this research, we discovered the Eclectus, and we wanted to add this magnificent species to the group. A year later, we find ourselves with a superb couple, without any intention of breeding. So it was, until the last addition to the family, an affectionate Greenwing Macaw.
Life with feathers
All our birds are fed fruits, vegetables and germinations, and also many home cooked meals and a good quality pellet food named Roudybush. All of our parrots receive a maximum of light wether through natural lighting or special UV lighting for their health.
Each day there are games and tricks to be learned, bathing time, without forgetting some tender loving care. A good stimulation and lots of love is essential so they are happy even if they are in captivity.
The start of Rio Parrots
Since that day, many other couples have entered our aviary like, Double Yellow Headed Amazons, Eclectus, Jardines, Derbyan, Sun Conures, Yellowsided Conures, Pineapple Conures and more. We are always in quest for more information to help the well being of our parrot friends.
Our breeding parrots get the same care and attentions as those in our living room. We breed parrots that stimulate our passion.
We are very proud and responsible, so all our couples have babies that are in great health, our engagement is also to find homes which are fit and responsible to love their new friend: the parrot.
This is our passion.