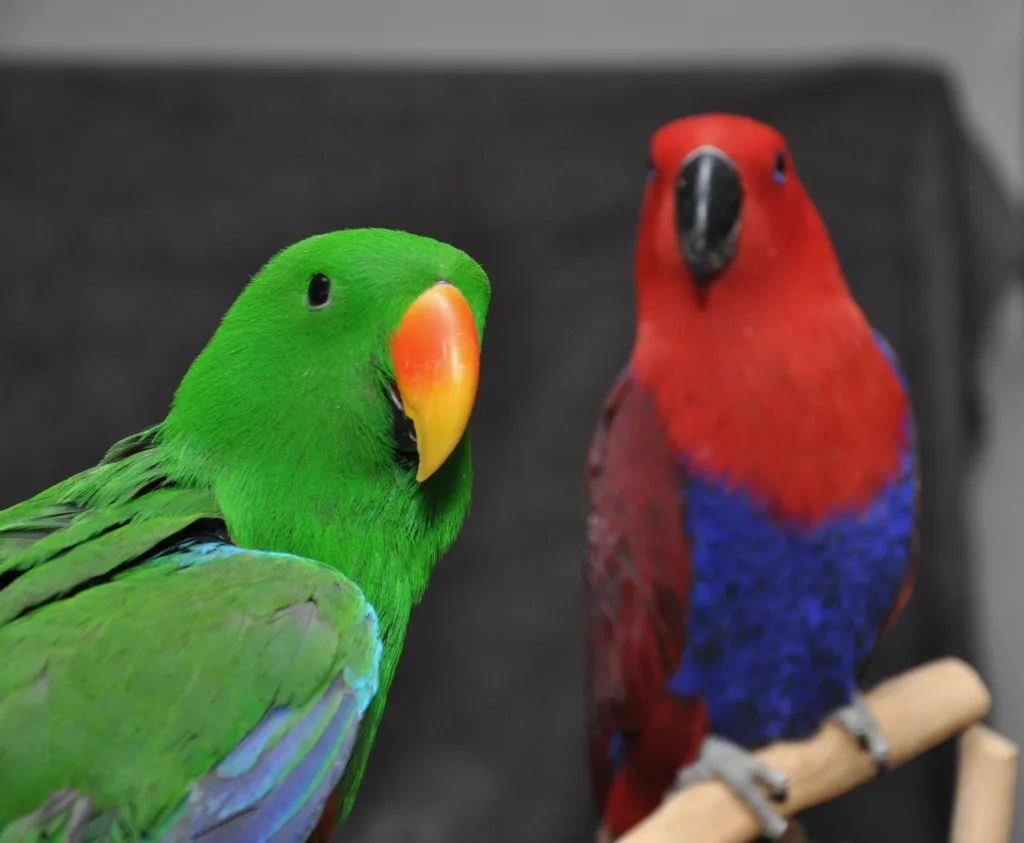 Welcome to our page dedicated to the Eclectus parrot, a unique and beautifully colored parrot species that is highly sought after by bird lovers and enthusiasts. On this page we will provide you with a complete overview of the Eclectus parrot, including its physical characteristics, behavior, diet and housing requirements.
Physical characteristics
The Eclectus parrot is a medium-sized bird that is very recognizable for its bright and vibrant colors. Males are mostly green, with bright red and blue accents under their wings, while females are mostly red with blue and purple accents under their wings. Both sexes have a different colored beak, the females black and the males orange. They can reach a length of 14 inches and weigh between 350 and 500 grams. Adult age is about 4-5 years. Longevity 30-40 years and native to Australia.
Behaviour
Eclectus parrots are social, intelligent and good talkers. They prefer a quiet environment and have an independent side. They can easily take care of themselves but this does not take away their need to socialize and learn to maintain their mental and emotional well-being. The Eclectus is a parrot that does not enjoy being flattered, but loves kisses and attention. Eclectus parrots are not monogamous but rather polygamous. In the wild when not breeding, they live in very small groups and of the same sex. This behavior in the wild is reflected in captivity which makes this parrot different in many ways.
Diet
Eclectus parrots have unique dietary requirements compared to other parrot species. 80-90% fresh, unprocessed food. In the wild, they eat mainly a variety of ripe fruits, vegetables and seeds. In captivity, it is important to provide them with a balanced diet that includes a variety of fresh vegetables, sprouts, shoots, fruit in small quantities if ripe, as well as high quality pellets and occasional nuts and seeds. It is important to note that Eclectus parrots are sensitive to certain types of food, such as nuts and high fat grains. It is important to avoid feeding fatty or sugary foods as this can cause health problems. Fresh water should be available at all times.
Housing and care
Eclectus parrots need a spacious and stimulating environment to thrive in captivity. A large cage of approximately 36x26x30 living space with plenty of perches, toys, foraging and climbing structures is essential to keep them happy and healthy. It is also important to provide them with education, plenty of socialization and exercise opportunities, such as supervised play and flight sessions outside their cage. Offer them baths 2-3 times a week and a minimum of 10 hours of sleep.
In conclusion, Eclectus parrots are highly intelligent, social and strikingly beautiful birds that require dedicated care and attention. Their diet is crucial to their health, the cause will soon become apparent, the pecking, the length of their beak and what about the appearance of their plumage. Eclectus parrots are not monogamous but rather polygamous. In times of non-breeding they live in very small groups of the same sex.