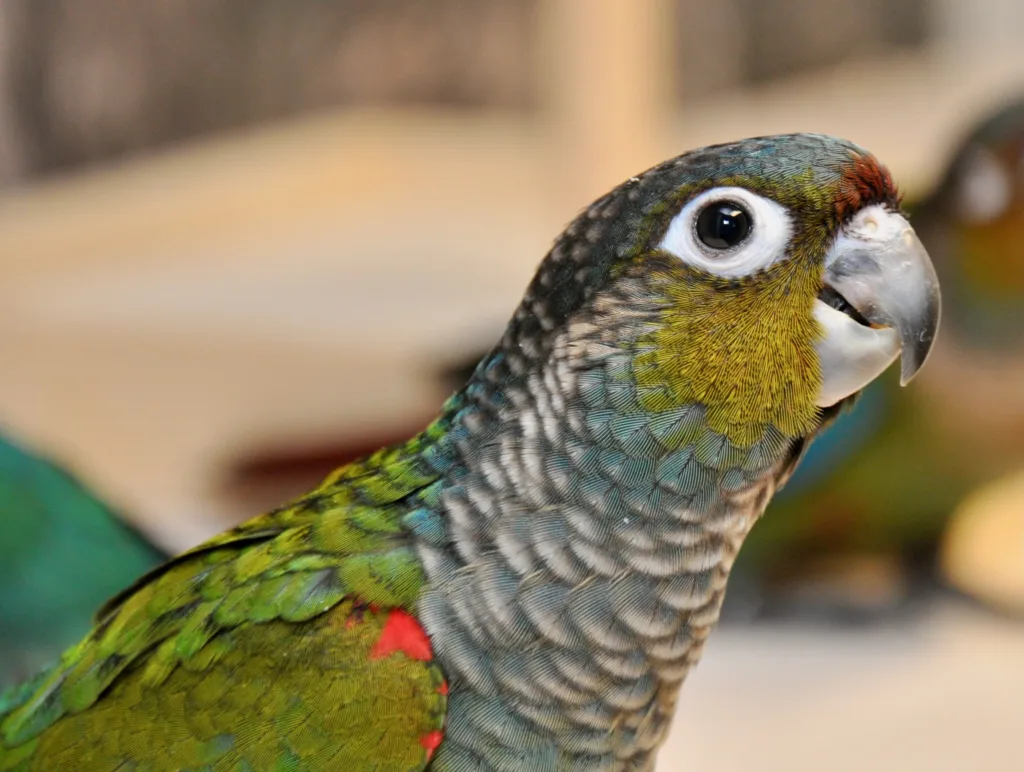 The Crimson Conure is a colorful little bird with a great personality. In this page we will discuss the physical characteristics, behavior, diet, housing and care of this adorable bird.
Physical characteristics
The Crimson Conure measures 24 cm including its long tail and its weight is from 79 grams to 94 grams. Its body is a mixture of colors, green, turquoise, burgundy. Its head is of a white and grey color that looks like scales. Its belly is of a bright red color only in adulthood which makes it unique. Its longevity is 20 years. The adult age is between 12 to 18 months.
Behaviour
They are social birds that like to be in company. They are active, curious and love to play and stick to us. They can be trained to do tricks and are very intelligent. They can also say little words. The Crimson Conure's cry is less piercing and frequent than other Conures in general. They have the ability to say 5 to 10 little words.
Diet
Crimson Conures need a balanced diet that includes fresh vegetables, sprouts, shoots and high quality pellets. A mixture of healthy grains and nuts in small amounts is also a requirement in their diet. It is important to avoid feeding them fatty or sugary foods, as this can cause health problems. Fresh water should be available at all times.
Housing and care
Crimson Conures need a spacious 24 x 24 x 30 minimum cage, with plenty of room to move around. They need a variety of toys, foraging and perches. They are very active birds and require regular exercise, so it is important to provide them with opportunities to fly or exercise outside the cage. Conures love water, so they require a minimum of 2 to 3 baths per week and a minimum of 10 hours of sleep.
The Crimson Conure is a beautiful and entertaining bird that requires proper care and attention. With the right diet, housing and care, she can be a wonderful pet.