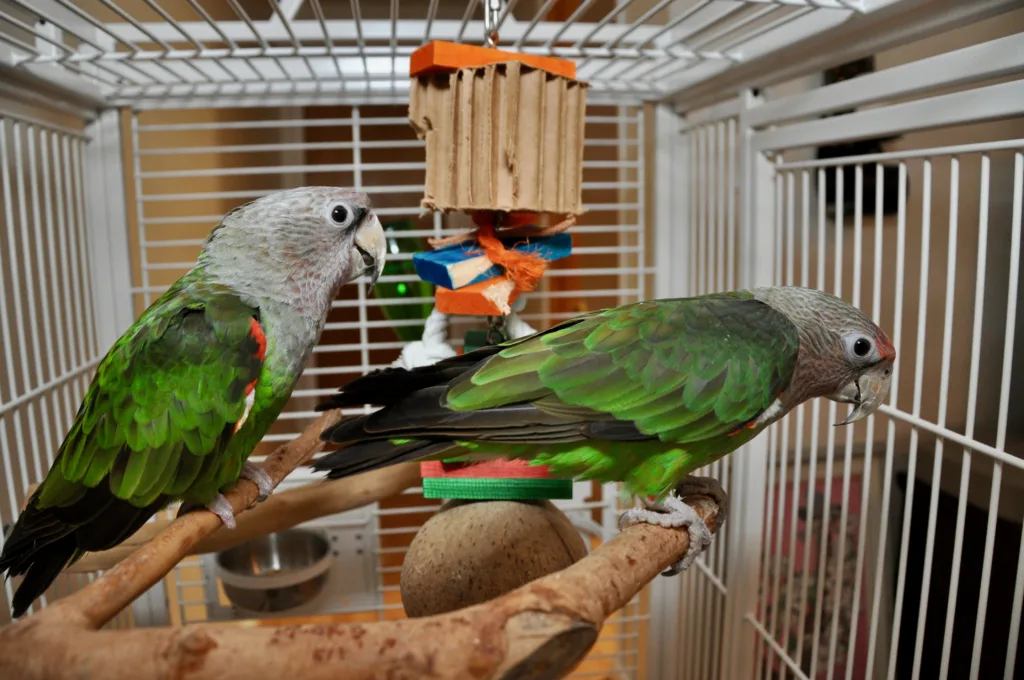 Welcome to our Cape Parrot description page. As experienced breeders of these beautiful exotic birds, we are delighted to share our knowledge and love for this unique species with you.
Physical characteristics
The Cape Parrot, also known as the Gray-headed Parrot, is a medium-sized bird with a distinctive gray head and bright green body. They have a short, stout bill, and their wings are pointed and narrow with a darker green and black color. Males and females are similar in appearance as juveniles, only the female retains her pink on the front of her head, and they range in size from 13 to 14 inches (33 to 36 cm) in length and weigh 275 to 375 grams. They have a longevity of 30 to 40 years and its adult around the age of 5 years. Origin of South America.
Behaviour
Cape Parrots are intelligent, playful and social birds. They are known for their unique vocal abilities and can learn to imitate sounds and words. They are also known to be inquisitive, love to destroy and explore their environment. Cape Parrots form strong bonds with their owners and require regular socialization, education and interaction to maintain their mental and emotional well-being.
Diet
Cape Parrots need a balanced diet that includes fresh vegetables, sprouts, shoots and high quality pellets. A mixture of healthy grains and nuts in small amounts is also a need in their diet. It is important to avoid feeding them fatty or sugary foods, as this can cause health problems. Fresh water should be available at all times.
Housing and care
Cape Parrots need a spacious cage of approximately 32x24x30 living space with plenty of toys, foraging and perches to keep them entertained and active. They are active birds and require regular exercise, so it is important to provide them with opportunities to fly or exercise outside their cage. They should also be offered baths 2-3 times a week and a minimum of 10 hours of sleep.
Thank you for taking the time to discover this rare parrot in captivity, the Cape parrot. In conclusion, the Cape parrots are birds full of personality and energy. Affectionate, intelligent, curious, active, they require a devoted and constant attention for its balance at all levels.