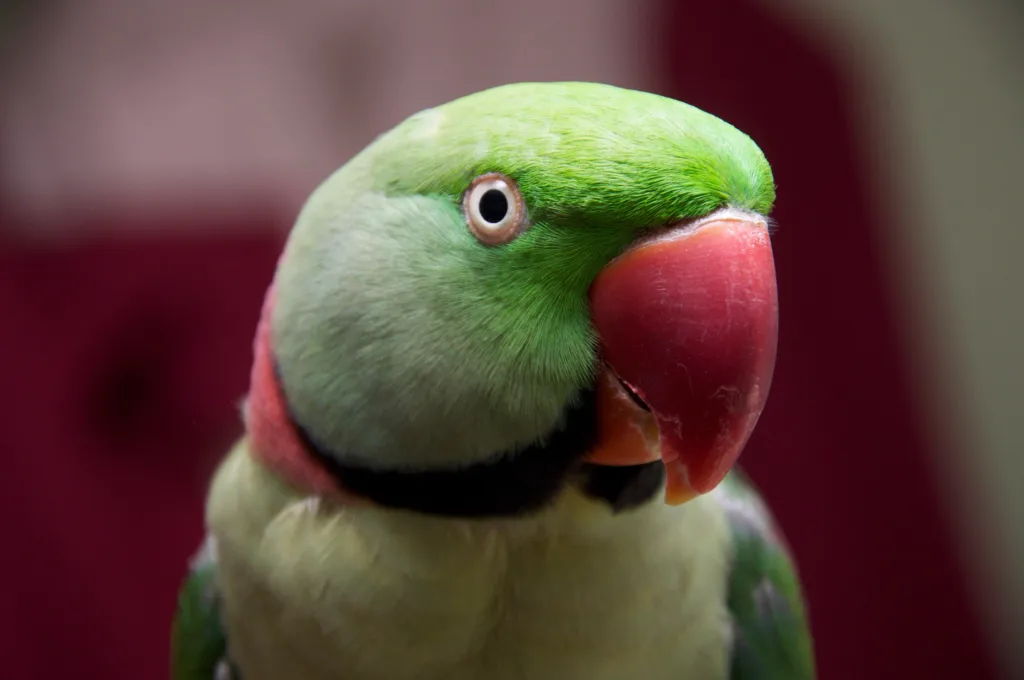 Welcome to our Alexandrine parrot page. This beautiful bird is one of the largest parrot species and is known for its striking coloration and playful personality. In this page we will discuss the physical characteristics, behavior, diet, housing and care of this adorable bird.
Physical characteristics
The Alexandrine is a medium sized parrot, measuring between 56 and 62 cm with a very long and thin tail and a weight of 200 to 300 grams. The latter gives it a very elegant and classic look. Its beak, of a beautiful salmon red, is rather large for its size. Its plumage is green, and its wings, dark green with a salmon red spot on the shoulder. As an adult, between 3 and 5 years old, the male has a black stripe on the bottom of each side of his cheek and a salmon stripe on his neck. His life expectancy is 30 to 40 years.
Behaviour
Alexandrine parrots are known for their playful but calm and social personality. They love attention and interaction with their owners and can become attached to them without developing jealousy. These birds are intelligent and can develop speech and need a lot of stimulation. They prefer a rather quiet environment, their call can be very loud.
Diet
Alexandrine parrots need a balanced diet that includes fresh vegetables, sprouts, shoots and high quality pellets. A mixture of healthy grains and nuts in small amounts is also a requirement in their diet. It is important to avoid feeding them fatty or sugary foods, as this can cause health problems. Fresh water should be available at all times.
Housing and care
Alexandrine parrots need a spacious cage, minimum 32x24x60 living space, with plenty of room to move around, toys to play with, foraging and perches to climb. They also need regular exercise outside their cage and to fly. Good socialization, education and bathing 2-3 times a week and a minimum of 10 hours of sleep are important to their development.
The Alexandrine parakeet is shy and therefore prefers a peaceful environment. The Alexandrine parakeet is very gentle, calm and quiet; it is generally not an intimidating bird. Even though it is large for a medium sized bird and has a large beak, it can feel intimidated.